Artworks from KAWS
---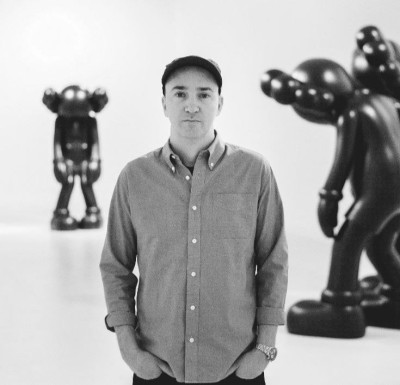 KAWS
KAWS is the pseudonym of Brian Donnelly, American designer and graffiti artist. He placed the four letters under his 'tags' in the streets of New York. In the 1990s he attended the School of Visual Arts in New York and worked as an illustrator at Disney. At night he was a graffiti artist and made parodies of existing advertisements on bus shelters, telephone booths and billboards.

He made his first three-dimensional vinyl toy in 1999. This Companion, with a round belly and white gloves, became an indispensable piece of jewelry among streetwear enthusiasts. Characters like Chum, Bendy and Blitz, and renditions of iconic cartoons like Pinoccio, Snoopy and Tweety followed. Hello Kitty was also present.

Often his sculptures, which came on the market in certain editions, were sold out within a few intervals. This, among other things, to a crashed site of the Museum of Modern Art. The toy line expanded rapidly; not only in number and color, but also in style, size and partnerships such as Dior, Louis Vuitton and Kanye West.

KAWS does the lines between art and commercial activities and therefore good parallels are drawn with Andy Warhol. The prices of his objects vary widely: from fifteen dollars for a key ring to more than fourteen million for a painting.